Learn the basics of using the Rad PlayStation application to view curated content.
Introduction
Rad's innovative platform supports 2D, 3D, 4K, Live, 360°, 180°, and traditional video on our PlayStation application. You can watch content curated and delivered by Rad, or you can view your own curated content from an external drive, local network, or RSS feed.
How to navigate Rad PlayStation App?
On the left sidebar, you can easily access our featured content, channels from our content partners, Live TV, VR, and your Library.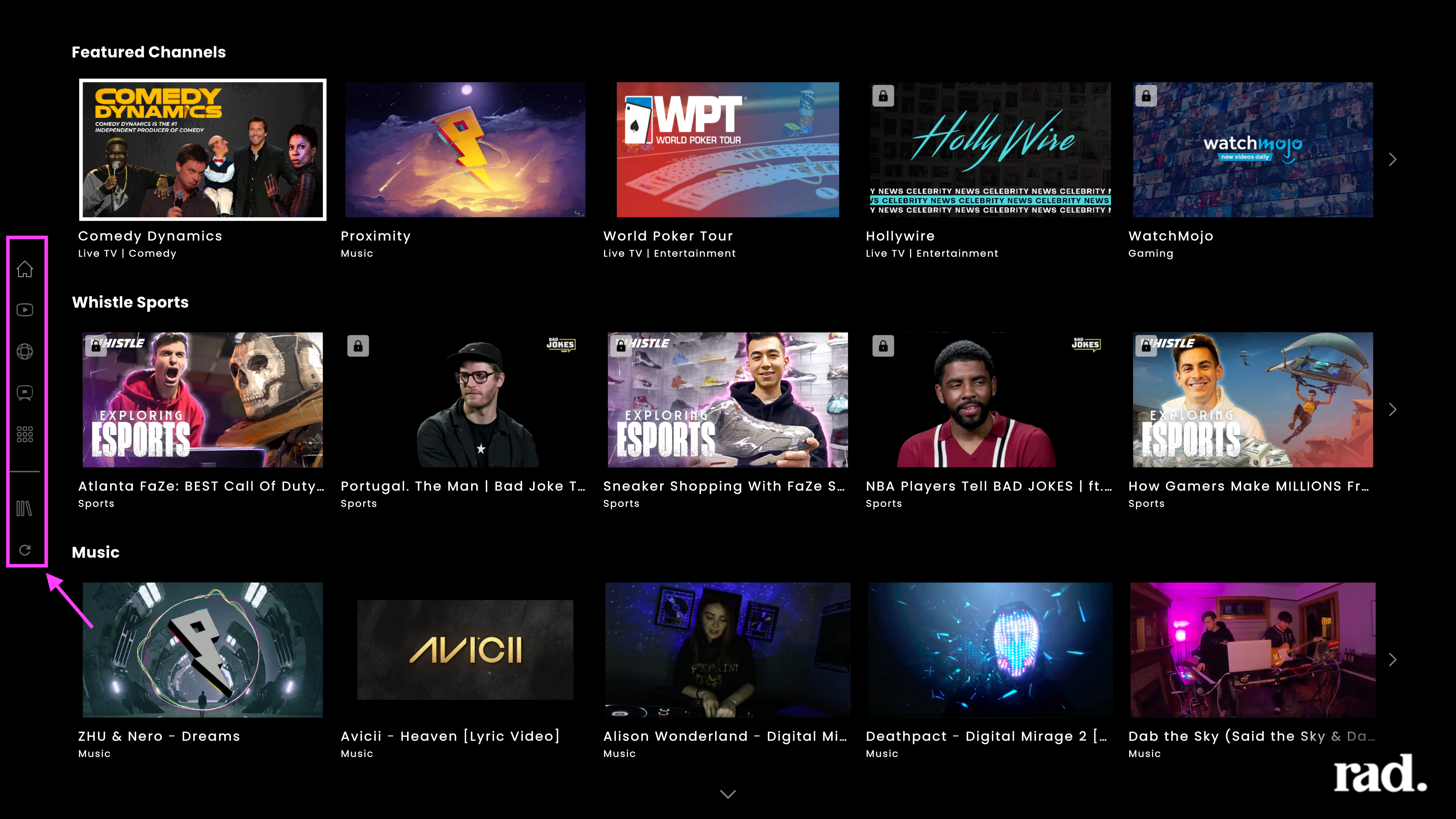 You may find a
on some of the content that is exclusive to users with a Premium subscription.
If you have a Rad Premium subscription, you can easily access the Premium content and your favorite channels. Enjoy live and on-demand E-Sports, Music, Comedy, and Sports from companies like NBCU, Warner, Whistle, Showtime, New Form, Law & Crime, and Sliver.TV.
You can find the Library on the sidebar menu once you Login.
On the Library page in the app, as a free user, you can view your own content for up to two minutes using sideloading and customize playback controls in the settings menu from the sidebar on the left.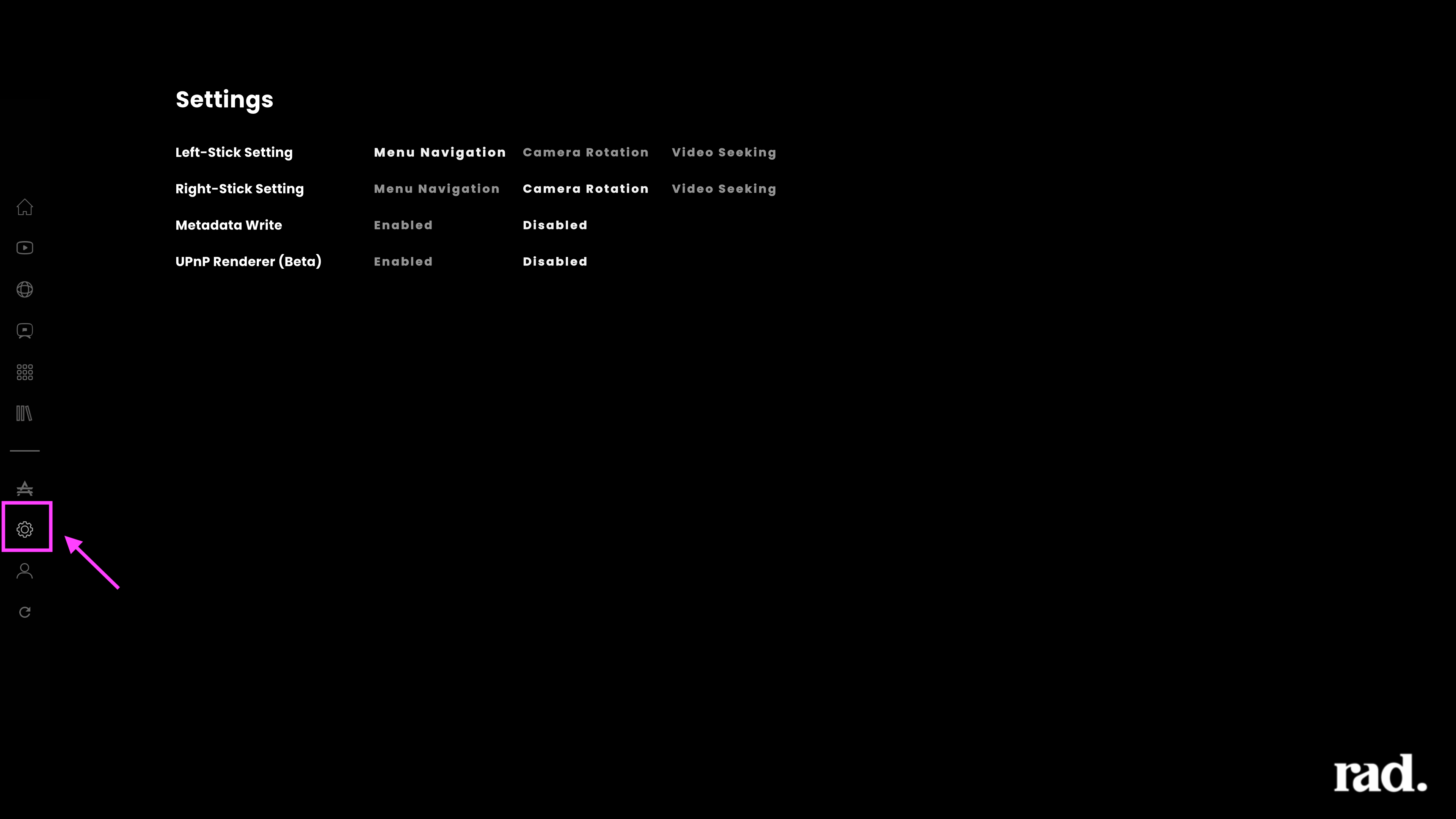 Our app supports the playback of 2D/mono, 3D/stereo, 360°, and 180° videos via an external USB stick or hard drive. There are a few simple steps in Sideloading [EN] that must be followed to get videos to playback correctly.
Sideloaded videos can also be viewed in Offline Mode.
To learn more about how to change the rendering settings such as video type, layout, and frame packing on the Library Page, please visit Metadata Settings.
For our Premium users, you can view your own content using sideloading, UPnP or RSS feeds. Use the sidebar on the right-hand side to search, sort, and filter your content.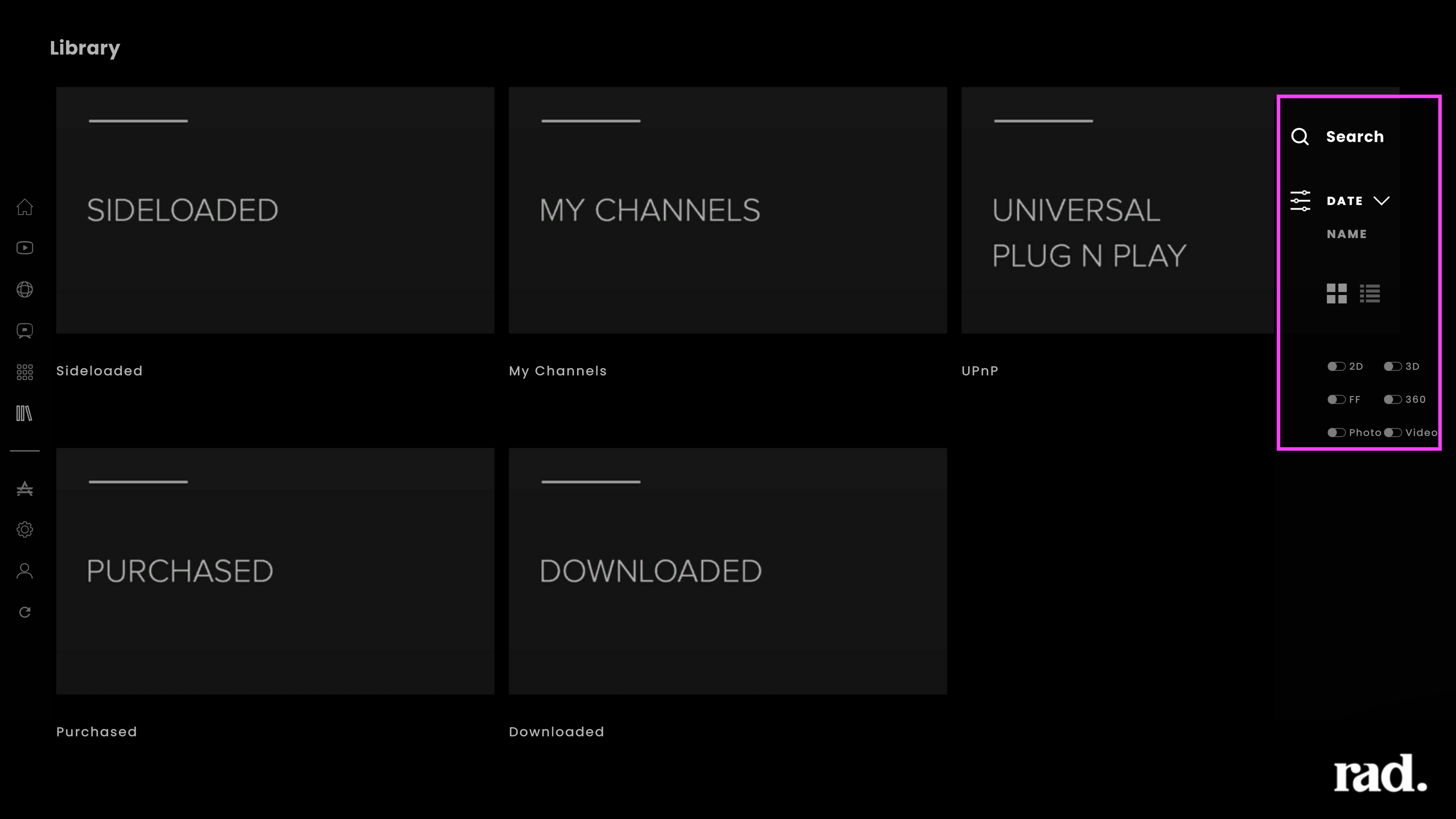 Rad offers support for the playback of video-based RSS Feeds. With a Rad Premium subscription, you can customize your RSS feeds in the My Channels section. More instructions on how to create, add, and view feeds in our app can be found in RSS Feeds [EN].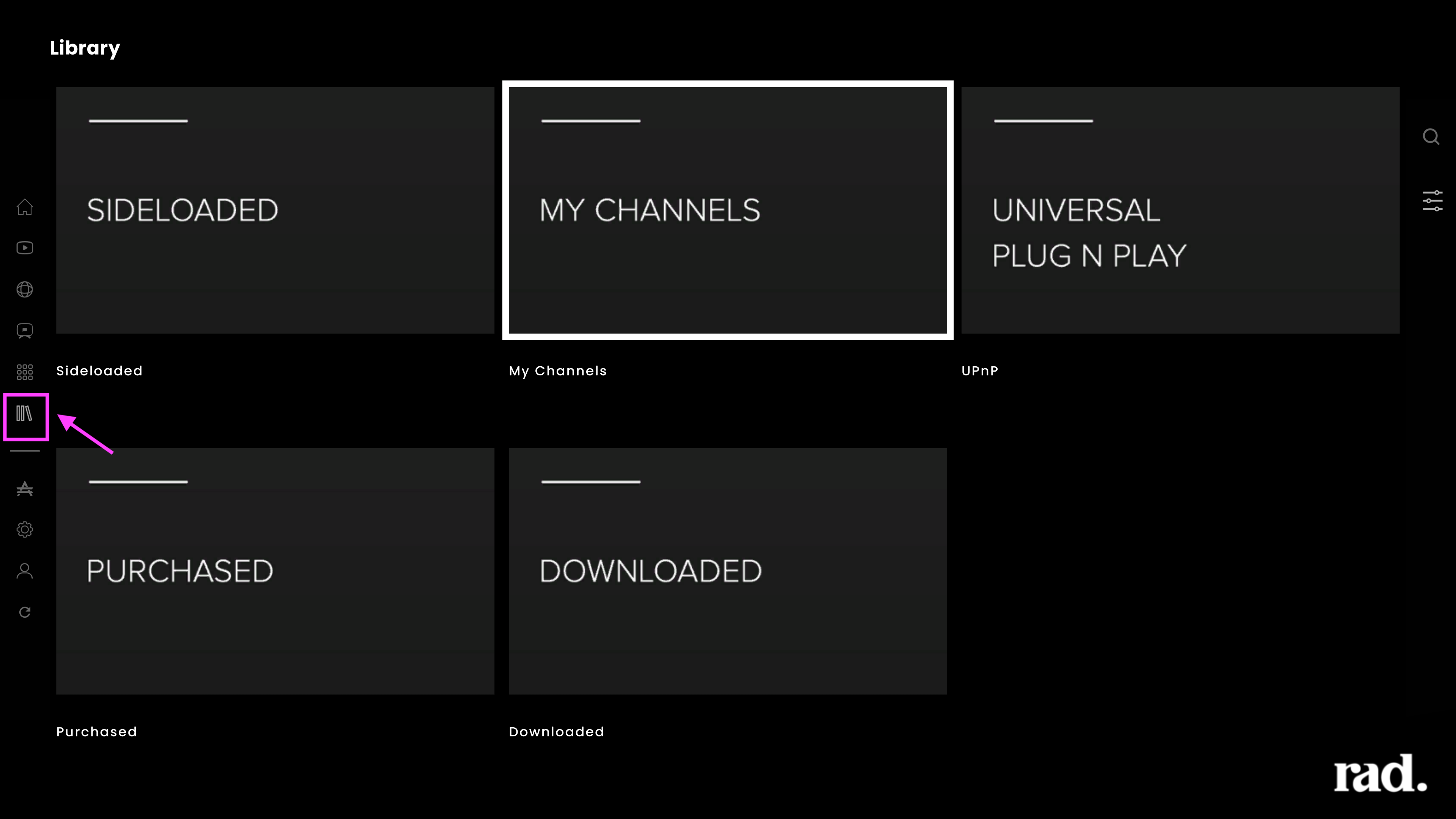 Support for streaming videos from a local network device is possible leveraging the UPnP (Universal Plug and Play) protocol. The Universal Plug and Play (UPnP) help page will link to help pages for the known supported servers on how to enable UPnP.
In addition, support for casting videos to the application and remotely controlling playback is possible leveraging the UPnP (Universal Plug and Play) Renderer protocol. Casting with Universal Plug and Play (UPnP) contains a list of help pages for known supported clients.
How to subscribe to a Premium subscription?
Sign up for a monthly or annual subscription today to enjoy curated entertainment. We accept PayPal and all major credit/debit cards.
What content does our app support?
To ensure proper playback and to be able to support as many videos as possible, please follow our recommended Media Encoding Guidelines.
How to earn rewards?
ARA points are earned by interacting with the Rad platform through Missions. You will be able to use ARA points for purchases in Rad PlayStation application in the future. To know more about ARA rewards, please check this article HERE.